You are here

Baby Boomers & Millennials, Time to Welcome Gen-Z
Baby Boomers & Millennials, Time to Welcome Gen-Z
Submitted by Headwater Investment Consulting on May 11th, 2016
By Kevin Chambers
If you have been reading through the news, you might believe that only two major demographic groups exist: Baby Boomers and Millennials. The generation born after World War II, the Baby Boomers, have been the dominant group in American social science for nearly 50 years. The Millennials (the generation born between 1981-1997) surpassed the Baby Boomers as the largest demographic group in 2015. What about the generation in between Boomers and Millennials? Generation X has consistently been smaller than both, based on the lower number of annual U.S. births between 1965 and 1980, and thus, have been consistently less influential in the headlines. However, the number of Baby Boomers are expected to fall below Gen X in 2028 (Fry, 2016).
More importantly, another transition is about to ripple through the generational rankings. Gen-Z's or Post-Millennials (the most recent generation) are about to become the second largest generation in the United States. They passed Gen-X two years ago and their numbers are continuing to grow. The oldest of the Gen-Z are just turning 18, so they have been so far excluded from most financial and sociological studies. This means that while Millennials have dominated recent headlines, as the next generation comes of age, look for them to become increasingly important (Zumbrun, 2016).
The oldest Millennials, now in their 30s, are being promoted into management and leadership positions in many organizations. Keep in mind that Millennials were largely shaped by the 2008 crisis. Yet many of the challenges that have faced Millennials (student debt, lack of pensions, social security) will still be issues for Gen-Z. The difference being that the newest generation has grown up in the technological age and are considered to be "digital natives" (Williams, 2015). They have also experienced mostly positive increasing economic times through their early development. They are prime to be very different culturally, technologically, and socially than Millennials. As we move forward, look for Gen-Z to make more headlines and become increasingly important in financial and sociological studies.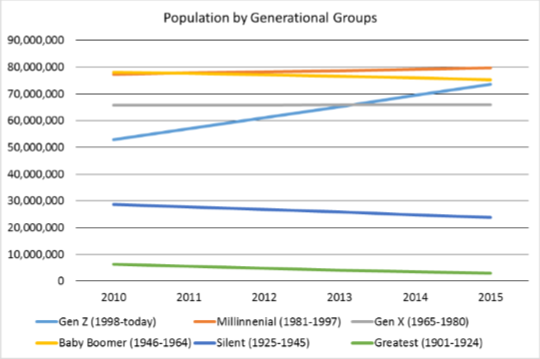 ---
Fry, R. (2016). Millennials overtake Baby Boomers as America's largest generation. Washington DC: Pew Research Center.
Williams, A. (2015, Septmeber 18). Move Over, Millennials, Here Comes Generation Z. New York Times.
Zumbrun, J. (2016, April 29). Baby Boomers, Just Eclipsed by Millennials, Will Soon Be No. 3. The Wall Street Journal.