You are here

Beneficiary Information
Beneficiary Information
Submitted by Headwater Investment Consulting on September 10th, 2014
By Kevin Chambers
Saving for retirement is essential to ensuring your financial security in retirement. However, to pass on that security to your loved ones, it is important to always have updated beneficiary information on retirement accounts. If beneficiary information is not accurate or current at the time of the account owner's passing, IRA assets can be pushed into an estate. This can cause unnecessary paperwork, additional stress, and even tax consequences for the beneficiaries. To significantly ease the complication often associated with transition of assets, make sure that your financial institutions have accurate Social Security Numbers and Dates of Birth for all of your beneficiaries.
How to Update Beneficiaries:
Most financial institutions allow you to change your beneficiaries online or over the phone. If you are a current client of Headwater Investment Consulting, we are happy to submit the documents to change beneficiaries for you. We will need you to come into the office to sign the paperwork.
On www.Fidelity.com, it is very easy to update beneficiaries:
Log into your Fidelity account.
Type "Beneficiary" into the search bar on the top right on the screen.
Click on the first result "Beneficiary/Beneficiary Change."
A page will appear showing all of your accounts that can have beneficiaries listed. Under those accounts, there will be a link to "update beneficiaries."
Follow the instructions to enter your updated beneficiary information.
Per Stirpes Designation:
One of the options when filling out beneficiary information is to designate 'per stirpes.' Per stirpes is a Latin term which translates to "by branch." This is a stipulation that if a beneficiary predeceases the account owner, their share of the inheritance will be distributed to beneficiary's heirs. Each branch of a person's family tree gets the specified share percentage. For example, if an estate is being divided equally among 4 children, they each get 25% share of the assets. If one of the children predeceases the account owner, the child's heirs split that share.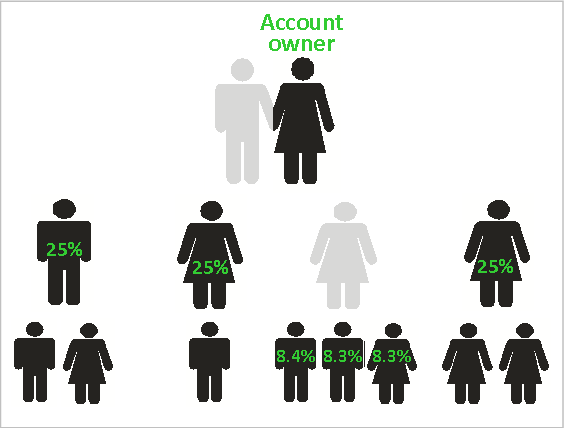 It is a good idea to make sure your beneficiary information is up to date. Make sure to update this information after any life event that changes your situation. This allows your decedents to avoid probate, expedites distributions, and minimizes the hassles associated with a death of a loved one. The staff at Headwater Investments is happy to help confirm or update your beneficiary information at any time.