You are here

Highlights of MBA Trip to China
Highlights of MBA Trip to China
Submitted by Headwater Investment Consulting on January 25th, 2017
By Kevin Chambers
As part of my MBA program through Willamette University, I spent the first week of January 2017 in China. We visited companies and organizations in Hong Kong, Shenzhen, and Guangzhou. Here are some highlights of my trip.
The Hong Kong Stock Exchange
The trip started with some sightseeing that illuminated both China's and Hong Kong's place in the world economy. Hong Kong, a "Special Administrative Region" of China, operates outside of mainland China, administratively. It does not need to follow the laws of the Chinese Government. They have different currencies with different exchange rates. Different economic regulations allow Hong Kong to be a center of western finance in Asia.
Our first day of company and organization visits started at the Hong Kong Exchange. Having studied finance and exchanges extensively, I always enjoy seeing an exchange in person. Although the majority of the trading happens online in all stock exchanges around the world, I still appreciated being in the physical location. As China seeks to become a modern country with international power, they aspire to emulate the western ideals of many institutions. The most interesting aspect of the visit for me was the emphasis placed on commodity trading. Their recent purchase of the metal exchange signals that commodity trading continues to be a very important part of the Chinese economy. Since China is such a large consumer and importer of oil and metals, it seems inconvenient for them to have to buy oil in Dollars, Pounds, or Euros. While the US and the UK have always been the stalwarts for oil trading, it is not inconceivable that an oil market could be established in Hong Kong to facilitate the transfer of Middle Eastern and Indian Ocean oil to China.
Kevin Chambers at the Hong Kong Exchange
Dean Shoes
About halfway through our trip we visited the Longfa factory owned by Dean Shoes, a footwear manufacturer based in Taiwan. At Longfa, they manufacture running shoes for Nike. First, I never realized the scale of the factories in China. The campus of the factory was massive. Most of the employees, even the managers, live on campus. They have dormitories, a medical clinic, and a dining hall.
Secondly, not coming from a manufacturing background, I was very impressed by the complexity and scale of the shoe manufacturing process. I expected more automation, instead I was astounded to find the numerous amount of people that handle the shoes along the production line. Workers at multiple stations were each doing a specialized job. Talking to some of my classmates in the footwear industry, they explained that not all shoes are as complex as the ones we watched on this production line.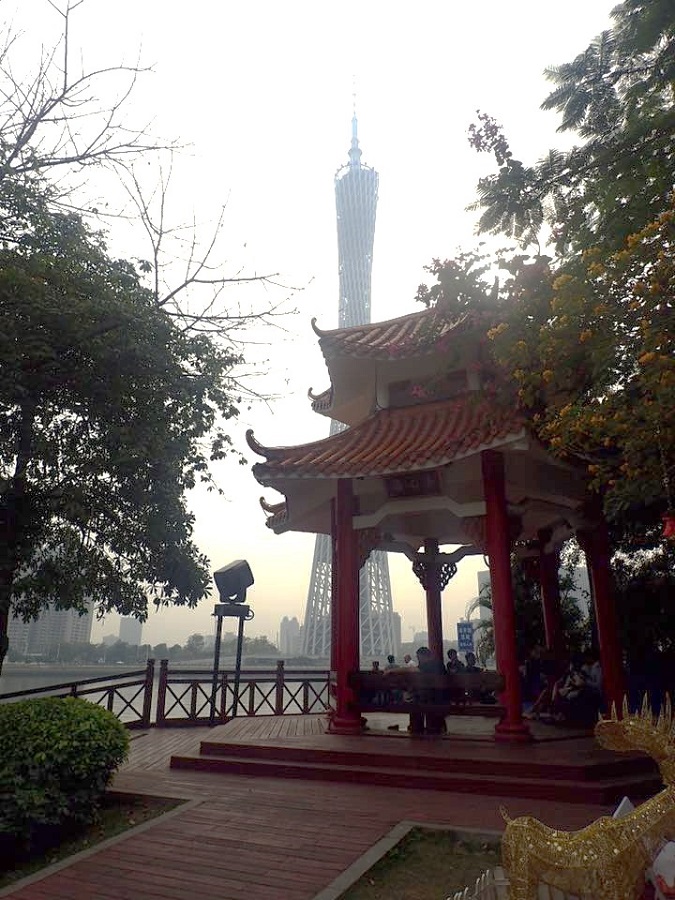 Canton Tower in Guangzhou​
Luxottica
One of our final stops on our trip was a Luxottica factory. Italy-based Luxottica is one of the largest producers of eyeglass frames. They also own Rayban, Oakley, Sungasshut, and Lenscrafters. The Luxottica factory in Guangzhou was an excellent contrast to the footwear factories we visited. It was a mastery of automation and efficiency. The factory was clean, shiny, and in perfect working harmony. I was very impressed by the high level of robotics. Every step was completed quickly and with precision. Like the footwear factory, this factory was owned by a foreign company. But unlike Nike and Dean, Luxottica was the sole owner. It was also important to note they tried to start the factory as a joint venture, but that attempt failed. They want the control over operations that ownership provides them.
The second most interesting part of the visit was learning that Luxottica does all of the design work for their licensed brands, and most of the design work is done in China. Michael Kors, Chanel, and Versace do not give them designs. Instead, Luxottica designers see each brands' fashion lines and create glasses to compliment the specific brand. This business model, along with its 80% of the market share, gives Luxottica a tremendous amount of control over the eyewear industry.

If you would like to hear more about my trip or want to talk about your portfolio, please give our office a call. I'd love to have a cup of coffee with you.