You are here

Investing for Nonprofits: Why Nonprofits Invest
Investing for Nonprofits: Why Nonprofits Invest
Submitted by Headwater Investment Consulting on November 1st, 2017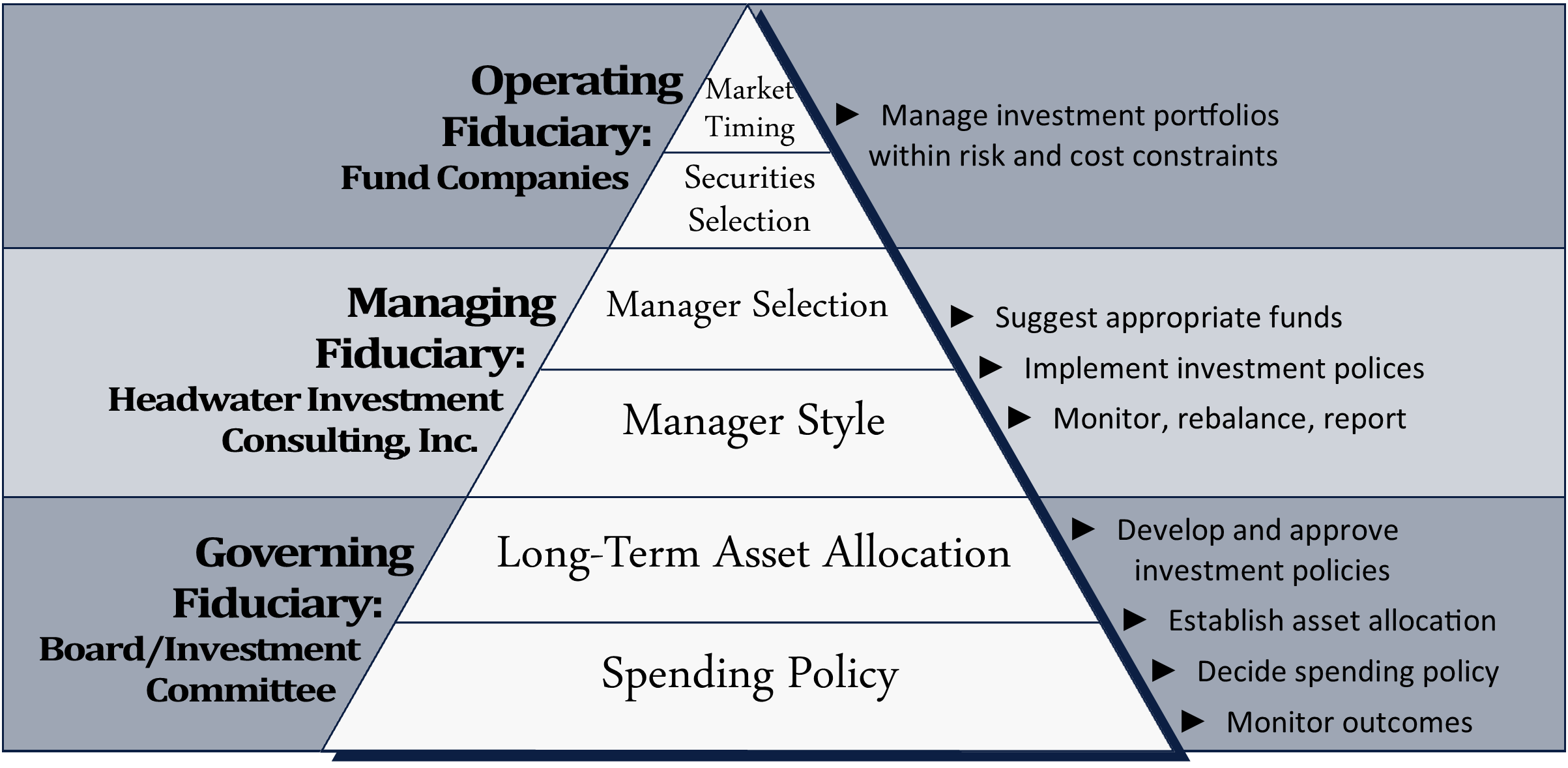 By Kevin Chambers
Headwater Investment Consulting currently manages investment accounts for 19 nonprofit organizations. Our expertise with nonprofits and responsiveness to requests from boards lifts the burden of fiduciary management off the shoulders of the board members. In this series of blog posts, we will examine why nonprofits invest and break out some governance practices all nonprofits should incorporate.
Part One: Why Nonprofits Invest
According to the National Council of Nonprofits, the role of board members is to act as "the fiduciaries who steer the organization towards a sustainable future by adopting sound, ethical, and legal governance and financial management policies, as well as by making sure the nonprofit has adequate resources to advance its mission."1 Founders of every nonprofit hope that the organization will not only fulfill the charitable mission in the community for which it was organized to serve, but that it will survive beyond their own involvement. To do so, the board must find a way to be financially sustainable. Since fundraising efforts will have "down years," an important strategy is to set aside funds for the future with the creation of an investment account. Though many board members we have worked with over the years have expressed skepticism about investing money for a nonprofit instead of using it to fund operations, here are a few reasons nonprofits should consider:
Building assets
Many grant-makers, auditors, and donors look at an organization's balance sheet to determine the financial health of an organization. Some organizations have land holdings or buildings that they own. These show up as assets on their balance sheets. Other organizations may rent space and not own much capital. Therefore, funding an investment portfolio can bolster their balance sheets and give their organization more legitimacy.
Long-term saving
Organizations often have reasons to save money over many years. Possibly they are saving for a large capital expenditure, or just for an emergency pot of money. Either way, if they have a long time horizon, a minimum of a few years, investing can give their assets return, instead of sitting in low-interest rate bank accounts.
Courting large gifts
Another reason non-profits might entertain building an investment account is to encourage large donations from supporters. For donors who have the desire to give large amounts, they often don't want it to be spent quickly. They like to know their money is going to help the organization for many years. This is why it is often easier for fundraisers to elicit such sums during a capital campaign. The donor knows their assets will help build a building that will serve the organizations charitable work for years to come. Alternatively, if a nonprofit has a well managed and governed investment account, designed to promote the organizations interests for many years, donors may be more likely to donate a large sum. It also gives the donor the option to donate the sums in the form of securities, which can give them the added bonus of not paying capital gains tax on the donation.
To read more, request a download of our complete paper, Best Practices: Investing for Nonprofits.
---
1National Council of Nonprofits. (2017). Retrieved from https://www.councilofnonprofits.org/tools-resources/board-roles-and-resp...