You are here

Why Economists Hate Tariffs: Part One
Why Economists Hate Tariffs: Part One
Submitted by Headwater Investment Consulting on August 1st, 2018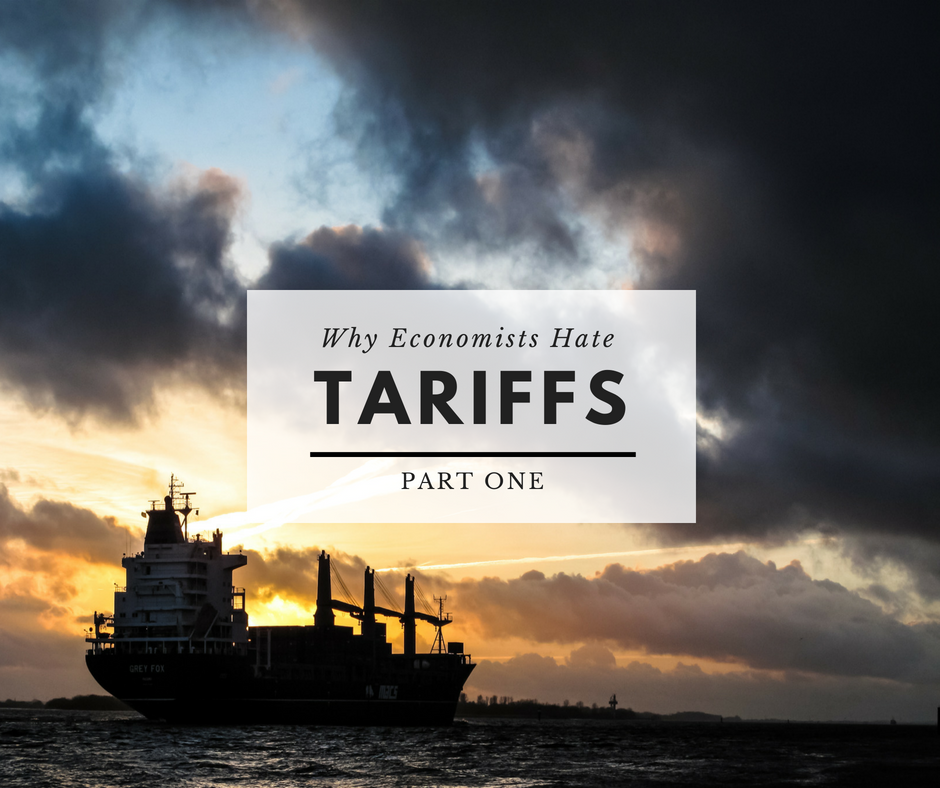 By Kevin Chambers
The University of Chicago Booth School of Business is regarded as one of the most prestigious business institutions in the country. About once a month they send a statement to around 50 of our country's leading economist. Topics range from statements about Bitcoin, employment, taxes, refugees, to even considering paying NCAA athletes. Often the distributions are pretty spread. For example, in December they asked the economist's opinion on the following statement: "Right now the US economy is operating at below maximum sustainable employment."
Below is a histogram of their responses: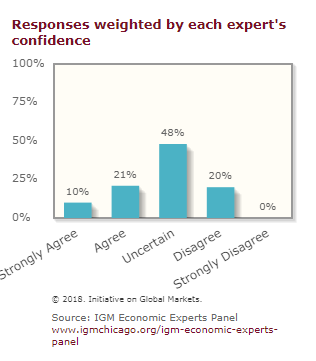 Pretty even distribution, which is to be expected. Get 50 academics in a room, and there is rarely consensus. Except for one thing: tariffs. Economists hate tariffs. In March, Chicago Booth sent this statement to their panel: "Imposing new US tariffs on steel and aluminum will improve Americans' welfare?" How did the panel of economists from all over the country respond? 100% said they disagreed or strongly disagreed with that statement.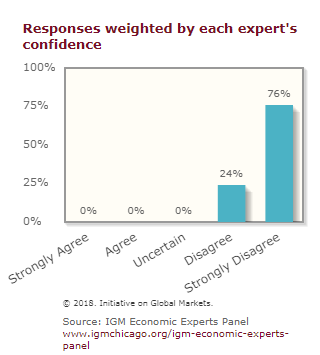 On July 24th, they sent: "Because global supply chains are more important now, import tariffs are likely substantially more costly than they have been 25 years ago." This statement is a little more ambiguous, leaving a little more room for interpretation. Essentially, it is asking the economists to now say how impactful tariffs would be.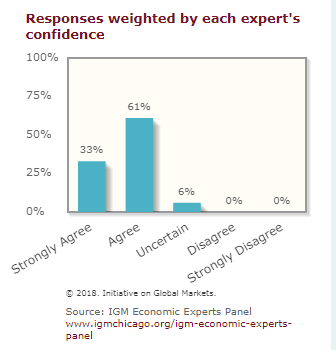 However, they are still in agreement. 93% of the economists said they agreed or strongly agreed with the statement, with no one disagreeing. Economists hate tariffs.
We are going to go a little more in-depth about the two graphs above, and try to answer two questions: Why do economists hate tariffs? – and – Why do economists think tariffs are an even worse idea now versus 25 years ago?
Why Economists Hate Tariffs:
The reason all economists hate tariffs is a because of their fundamental theory concerning international trade. Let's dive briefly back into Economics 101 class.
Economic theories use markets to determine the most efficient allocation of resources. In international trade, this means trying to figure out which country is best at producing certain products and commodities. The main economic theory of international trade is called "comparative advantage."
The idea of comparative advantage assumes that countries will decide to trade with each other because they can both benefit from specializing in different industries. This theory was first explained by an economist named David Ricardo. He used the example of England and Portugal in the 1800s. To make things simple he just focuses on these two countries ability to make cloth and wine. He set up this table:

What this table says is Portugal is better at making both cloth and wine. To create both a unit of cloth and wine each, it would take 170 hours. In England, the same products would take 220 hours. What happens if they specialize? If Portugal only makes wine and England only makes cloth?
Portugal makes 2 bottles of wine, and it takes them 160 hours. England makes two reams of cloth, and it takes 200 hours. Then they trade 1 of each back and forth. They both still have one of each product, but it took 10 hours less work for Portugal and 20 hours less work for England. The same products were made more efficiently through trade. Less hours worked, means a lower price for both products. Therefore, through trade both countries get an aggregately less expensive basket of goods.
This theory assumes free trade. There is no added cost to trade other than the cost of transportation. Essentially, tariffs increase the cost of trade. Proponents of tariffs use them to protect domestic industries. In the above example, maybe a politician didn't like that the English wine industry suffering because of Portuguese imports. Their solution could be to add a tariff to Portuguese wine. To make it effective, they would need to place a tariff big enough to make Portuguese wine more expensive than English wine. This would force England to return to the state of creating both products again. Eliminating trade and making both goods more expensive in both countries.
Economists love efficiency. They want to see products made with the lowest amount of inputs, allowing them to be sold at the lowest possible price, and available to the most amount of people. Tariffs change the decision-making process of producers in countries. They can't produce at the "market value" because the tariffs artificially change the price.
Check back on Friday for Part Two of Why Economists Hate Tariffs for the conclusion of Why Tariffs Matter More Now.